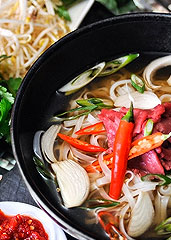 Lunch-in-a-bowl alert: the Mandarin Oriental just launched
Pho at MO
, a pop-up lunch spot in their fireside lounge, now open through March. Think: pho noodles using oxtail or ginger-scallion chicken broth with shaved steak or chicken. Here are a few plausible midday uses for it. Three down, a lot to go.
FOR THE DEAL CLOSER
Where you'll sit:
The sumptuously throw-pillow'd gray couch and marble tables along the back wall.
Why:
It can house you and the six execs from that Vietnamese company you're acquiring. Give them
a taste of home
before they taste the steel of your favorite deal pen (figuratively speaking, of course).
FOR THE TEAM LUNCH
Where you'll sit:
The small arrangement of plush thrones and a two-seater couch next to the stone sculpture.
Why:
Team rapport is crucial. And its upkeep sometimes depends on posh lunches. And maybe a massage upstairs for you after.
FOR THE LUNCH DATE

Where you'll sit:
One of the round tables for two by the fireplace.
Why:
It's the ideal place to spring the news that you locked up that one-room log cabin in northern Maine.
And if you can't wait to celebrate, the check-in desk is right behind you...