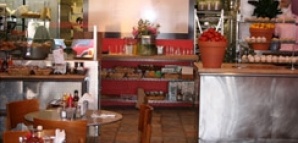 "I love burgers. I love cupcakes. That's it."

Apparently no other explanation is necessary for why Mitchell London opened up a very specific eatery called, well, Burgers & Cupcakes.

Good enough for us.

And aside from those two ingeniously-paired food items, there's nothing else to be had on the menu here (except for breakfast, which is served all hours). Burgers are chubby and juicy, ground from well-herded beef that arrives fresh every day—get them on a basket of crispy fries. Dress your burger with a vast list of toppings, from Double Thick Bacon to Cranberry Sauce to Pizza (in case you're looking for a way to get your other favorite food item into the mix). Non-beef burger options abound as well (Veggie, Turkey, Salmon, Lemon Grilled Chicken and Portobella Mushroom).

Cupcakes (which she'll love, and which you'll pretend to be reluctant to eat) are smallish, simple and moist, and come in more cake varieties than usual—vanilla, chocolate, blueberry and carrot cake.

Burgers & Cupcakes delivers free to a limited zone, but we convinced Mitchell to send his beef and sweets anywhere in New York if the customer pays for cab fare.

Let's just hope the cabbie isn't hungry.