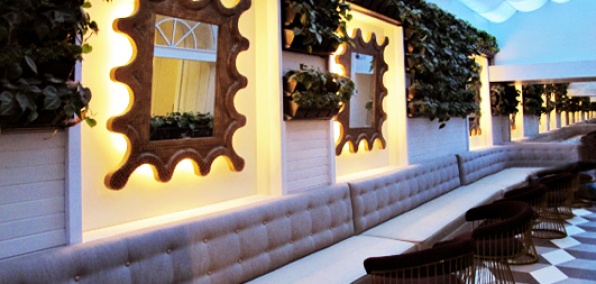 Whenever someone from Nobu graces you with a brand-new seafood palace, it's a big deal.
Related: we've got something today that's kind of a big deal.
Welcome to
Harlow
, a sharp new parlor of seafood and old-schoolery, opening next Wednesday.
Your undying love of turbot a la plancha and bib-required lobster tail is touching. So touching that Richie Notar (yes, the Nobu partner) has constructed this subterranean stunner just so you can eat all that in a world of chandeliers, vintage stained glass and yes-this-is-a-serious-date splendor.
You and said date'll enter under a black awning on 56th, through a black-and-white-striped hall. You'll come upon what looks like a truly fantastic living room. Fantastic on account of the raw bar (your living room's been sorely lacking one of those). Grab a sofa. Share it with someone, there's plenty of room. Have
some octopus-scallop-shrimp ceviche
. Classic move.
Beyond that living room, you've got a sort of choose-your-own-adventure situation.
If this is phase one of the evening, go straight ahead: a leafy indoor garden with deco wraparound chairs and a permanent afternoon feel. It's just where you want a whiskey-based number that goes by
Blizzard of '78
.
If you're here for sweet-nothing whisperings, go right. Warmer lighting. Table lamps. Deep-blue velvet corners.
They're huge David Lynch fans.