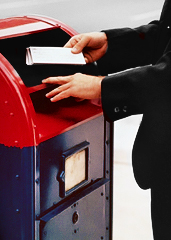 Mail.
Now there's a concept. Slap 46 cents' worth of postage on an envelope, and someone will hand-deliver it halfway across the country. Well, not on Saturdays anymore. But still.
Anyway, you should really get in on it. As for what to send...
Meet
Black Sheep Postal Service
, a new concept that sends—and more importantly, writes—handwritten cards for you. It's taking orders now.
This is How to Fake Like You Are Nice and Caring 101. First, sign up for the service, then submit the names and addresses of anyone you'd ever want to send a card to. Finally, pick out an occasion. Birthdays are good, and they also do holidays—soon including, no kidding, Shark Week.
The guy behind this writes a handwritten note on a thick, oversized postcard. (You can personalize your message in the comment box while ordering.) Then, without any further action from you, he—get this—
applies a postage stamp and mails it
. After that, your chosen recipient will receive the card, even despite the potential interference of rain, sleet or snow.
Now, if you're specifically wondering about a certain upcoming greeting-card holiday, you're in luck. See, the guy behind this will hand-cut a giant, 24-by-16-inch heart—and get it to your giftee on time.
Your commitment to Presidents' Day cards is inspiring.