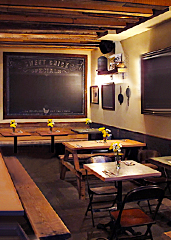 Ladies and gentlemen, the state of the waffle is strong.
Right now, in fact, you'll be happy to know that waffles are working on a new alliance with fried chicken.
It'll be a union of mutually assured deliciousness.
Thank you, and God bless America.
And behold
Sweet Chick
, a carefree little farmhouse of down-home-y fried wonders, opening next Tuesday in Williamsburg.
This place is from the guys behind Pop's, across the street. It's equal parts Southern backyard charm and Brooklyn-y distressed-woodiness—just a handful of picnic tables and two-tops. Here, you'll experience Ritz-crusted mac and cheese and bacon-wrapped oysters (most likely by eating them).
But the real draw, naturally
, is the chicken and waffles. The chicken: fried. The waffle options: Belgian, bacon-cheddar and rosemary-mushroom. Sort of a collect-them-all scenario here.
Bring a big group. Try as much as possible. We mean, they've turned duck into sloppy joe, and you've got to try that. Get the longest picnic table. The one that runs down the middle of the place.
But first, get there before your friends arrive and post up at the bar. Order a
Tiger Woods Y'all
. You'll do this because it's honey whiskey, cognac and lemon in an Arnold Palmer served on tap.
And because it's called that.