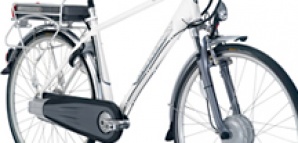 Fair warning: we could soon be living in a country with no cars. Thank you, Detroit.
 
But you'll be happy to know that in our tireless pursuit to find you a suitable alternative to your old four-wheeled friend, we've discovered the Schwinn Tailwind, an electric bike so new and game-changing, we decided to bring it to you in the dead of winter since it's just now available around town.
 
When considering whether or not you're ready to switch to two wheels, it may help to think of the Tailwind as a bike with the heart of a Radio Flyer and the spunk of a Vespa. Cleverly disguised as a regular bike, the Tailwind has a silent motor that helps make pedaling as easy as, well, not pedaling. Which means that you can toss your favorite handlebunny on the front and tackle any hill (even if it has to be Murray Hill) as if Lance Armstrong was pedaling along with you (okay, maybe not Lance Armstrong, but definitely Cru Jones from Rad).

All you've got to do is plug it in to a normal socket, and half an hour later you've got a secret transportation weapon willing to do most of the heavy lifting. But rest assured you can switch back and forth between motoring and pedaling as often as you like.
 
Or just stick to motoring but making it look like you're pedaling...