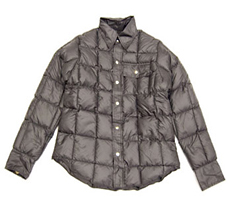 Well, it's February. And you've got to do something about this blustery mid-70s winter.
You need a coat that's still kind of just a shirt. You need this number from
Crescent Down Works
, now available at South Willard on Third Street.
First thing you'll notice about the Down Shirt Jacket is the effect created by the chest pocket, collar and button-down closures with leather reinforcements. Combined with the unusually lean fit, you're more likely to hit the slopes looking like an all-business athlete rather than a cured ham at the deli counter. (Still, we don't recommend tucking it into your trousers.)
Available in navy or black, the Shirt Jacket isn't just a trendy gimmick—it hails from a Seattle company that's custom-filled each piece with goose down since 1974. And in that corner of the country, goose-down vests in winter are something closer to a necessity, so you can be assured it'll work at Big Bear just as well as the boardroom. Just kidding about the boardroom...
At least not until you find your down-filled tie.