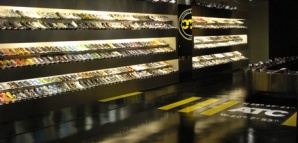 Now that the weather has cooled down a bit, you're inclined to give those flip-flops a rest and go for more foot coverage.

Which means you could use some new kicks. And if you're ready to make a fresh statement, then you absolutely have to check out Air Traffic Control.

If Turtle from Entourage ever got around to opening his own store, we're pretty sure it would look a lot like Air Traffic Control. Launched by a Hong Kong-born sneaker junkie, the store specializes in impossible-to-find, extremely-limited-edition footwear, the likes of which you've probably only seen if you've recently been to Tokyo. Even the presentation is pretty slick: the shoes scroll past on a carousel-like conveyor belt—sort of like the one Kurt Russell built for Goldie Hawn in the movie Overboard, only better.

Head into the sliver of a shop and survey the scene, then grab a seat at one of the red Madrid airport chairs and try on a few pairs until that one special look jumps out at you. The selection includes lots of eclectic Nike and Jordan sneaks, plus more daring offerings from Alife, Adidas, A Bathing Ape, Converse and New Balance. Pair them with jeans and a T-shirt, and you're ready for your Saturday.

Or even your Monday.