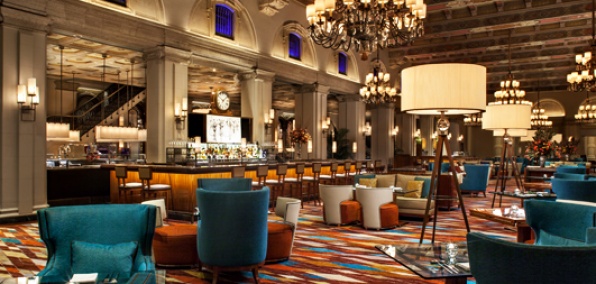 Henry Flagler. Oil tycoon. Entrepreneur. Stand-up guy.

Exhibit A: Connected Daytona and Key West by rail. A new era of beach party hopping was born.

Exhibit B: Humbly declined Miami's offer to take his name. Because "Bienvenidos a Flagler" didn't have the same ring to it.

Exhibit C: Maintained an epic mustache.

And now... he's built you a place to drink. Sort of.

Welcome HMF, a gloriously restored old-world lounge for social swilling and cocktail clinking, now open in the Breakers Palm Beach.

The place is a tribute to ol' Henry (yes, he built the Breakers). And it looks a lot like what might've happened if Jay Gatsby and one of the Mad Men went in together on a lounge: mahogany bars, frescoed ceilings, wrought-iron chandeliers and a 7,000-bottle wine wall. You know, super modest.

So the next time you're in Palm Beach doing the polo thing, swing by for nightcaps. Preferably with a date. Cozy up in one of the jewel-toned drinking nooks and order a round of Railcar #91s (that's Courvoisier, local honey, orange foam) and some fish tacos (that's fish, tacos).

Oh, and every now and then you may see a cigarette girl breeze by your table. She... won't be offering cigarettes, but rather dessert (think butterscotch panna cotta) and board games (classic stuff, like backgammon). Also, she's available for picture taking.

Maybe put down the panna cotta first.