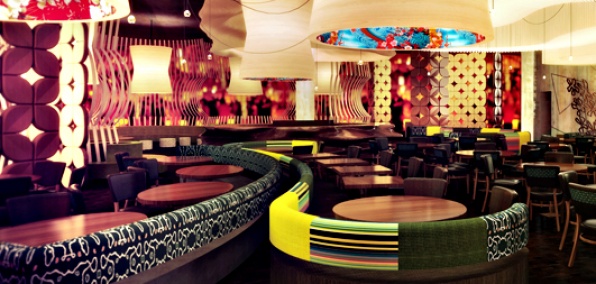 Nobu.
We won't insult you by telling you all about the man.
But you should know that more than 12,000 square feet of his heart and soul is being poured into a space on the Strip right now.
And that can only mean good things for your sushi regimen.
Hear the angels sing for
Nobu Restaurant & Lounge
, the new king of Chef Matsuhisa's Japanese raw fish Valhallas. It's conveniently located in the Nobu Hotel and taking reservations now for the February 4 opening.
So yeah, the Nobu Hotel.
That's happening
. And this'll be its crown jewel. A curvaceous, stone-cold fox of a space for you to settle into some teppanyaki and yellowtail sashimi with a new friend on each arm and your winnings in your pocket.
The vibe here is kind of mid-century modern meets some girl's kimono—winding leather booths with exotic prints, oversized paper lamps, lots of teak. Which... sounds pretty great, actually. Especially when you toss into the mix the kind of black cod miso and Wagyu beef that'll make you believe in things.
Now, you've got other options here. A lounge for lounging. A sushi bar for stranger-meeting. Solid stuff. But let's say you're staying at the hotel... because, yeah, you should do that. You've got 24-hour in-room access to green tea waffles and lobster wasabi bento boxes.
That's right: pants-optional Nobu.