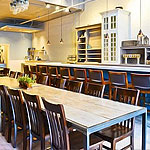 Table #13, Puritan & Company
You Require: Anything involving nooks. Or... trapezoids.
You'll Receive: A cozy table-banquette nook with said geometrical shape in the back corner of Will Gilson's lauded house of New England–ness. Use the great views of the oyster bar to inspire a tactful discussion of the effects of mollusks on one's libido.