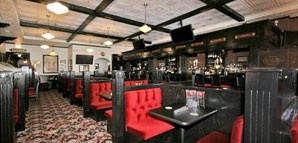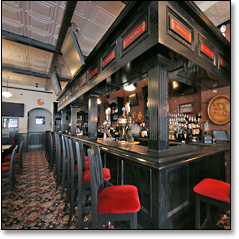 You've been meaning to inject a bit more class and sophistication into your sports-bar experience, and nobody does class and sophistication like the British.
Except for maybe the Canadians impersonating the British...
Introducing
The Firkin & Pheasant
, your new friendly British-style pub, which technically arrives from our brothers to the north.
Just in time for Steelers-Cardinals (and Man U-Everton, and...the Grey Cup?), the Firkin delivers all the velvety pomp, circumstance and Boddingtons of a Victorian pub, with a noticeable helping of Canadian hospitality (read: friendly...almost too friendly). Pull open the red lacquered front doors, and you'll feel a bit like an Edwardian lord entering his private parlor, with thick padded carpet softening your every step (try to remember the last time you felt that in Chicago). The only difference is this parlor has oversized crushed-velvet banquettes and enough HD flat screens to catch every word of an Anquan Boldin sideline outburst.
To go with your cold pints, there's British fare like
Cottage Pie
,
Fish & Chips
(served on faux London newspaper) and
Prime Rib Roast with Yorkshire Pudding
. But there's also a half-pound
Knife and Fork Chicago-Style Dog
, just in case you aren't feeling like English cuisine.
You wouldn't be the first...