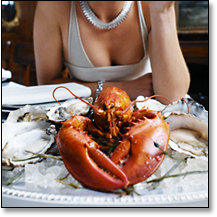 You've never been one to let a global economic crisis get in the way of a good time. After all, an oyster is still an oyster and champagne is still champagne, and we think both fit squarely in the "necessity" category.
Which is why
Ed's Lobster Bar
'
s just-announced 
Daily Menu
piqued our interest over all the other recession menus around town—every day of the week seems to bring another economically mouth-watering reason to slide in for some below-market seafood.
Like today, for instance, when you can sit down for a thrifty dozen oysters at $2 a pop, setting the market at a new low against other oyster mongers like
Ditch Plains
and
John Dory
. Or all-you-can-eat mussels
on Monday. The other nights are moderately compelling (like lobster fra diavlo Fridays), but we've really got our eye on the Sunday night clambake free-for-all, complete with lobster, mussels, pearl onions, coleslaw and everything else you need for a Rockwell-esque New England-style scene.
 
It's the perfectly quirky menu hitting at the right time in the right spot—a cozy nook of a seafood bar tucked in on a bustling stretch of Lafeyette Street in Soho.
 
Think of it as excessive moderation.