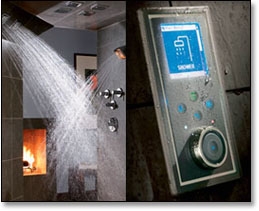 In the never ending pursuit of taking things up a notch (and doing it digitally if at all possible), we were more excited than we'd like to admit to stumble upon the makings of the perfect shower.
Instead of standing outside your shower in the chilly air tweaking with your shower knobs, Kohler has created a device that gives you the instant (and somewhat smooth) gratification of pushing a single button and walking into your own customized liquid oasis.
The
Kohler DTV Custom Shower System
has a sleek panel that controls the individual speed, pressure and temperature settings for up to eight shower heads (for when it gets a little crowded in there). You can also design "showering programs" that you can save and access with a touch of a button, which is convenience you just can't afford not to have (because you might enjoy ending things with a body spray at 95 degrees, but Naomi likes rain at 104 degrees, while Anna likes starting off with a wave massage at 98).
And you never thought you'd be this glad to stay clean.