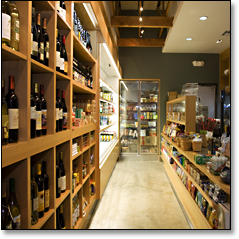 You can feel it in the air—change. Also smog, but some change.
So it's time to make your beer runs a bit more globally sound. Introducing the
convenience store of the future
—
Locali
opens tomorrow.
There's a Slurpee-like machine behind the counter, but its all-natural contents are sweetened with agave instead of...whatever curious chemicals you'd find in a Slurpee. If you're picking up lunch, try the organic tamales or grass-fed-beef hot dogs in the deli section. For dinner later, there's ostrich burgers—organic, free-range—and vegan caviar. Pretty much everything about the place is recycled or salvaged, and all the food on its shelves is...well, you get it.
But you'll find more than you might expect, including a substantial selection of wine and beer—all of which fall into the organic, sustainable or generally earth-friendly categories. (Grab a recycled carrier to make your own six-pack.)
And if you really get into the spirit of the place, you'll enjoy some new twists on the old standards, like vegan condoms, flask-shaped glass water bottles, books on the environmental benefits of beer drinking, and even recycled toilet paper that used to be junk mail.
The more things change...