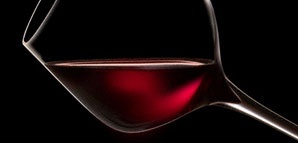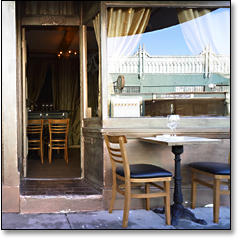 Wine is like water in this city. (Thankfully.) And it seems like there's a bar serving a glass of pinot on every corner.  
But bubbly is another matter—you can never find a cozy champagne nook when you need one.  
Starting tomorrow, you can add one to the short list. Introducing:
Mini Wine and Champagne Bar
, an impressively tiny twelve-seat bar tucked away just off Valencia Street.  
You won't argue that Mini lives up to its name, which is why you'll want to keep this covert den to yourself and go when you're traveling in a pair, not a posse.  
Blink and you'll miss it, so keep an eye out as you pass Esperpento. Lead her inside where the pair of stools at the two-seater bar has your name written all over them (at least figuratively). If the bar is full, there are five pink- and gold-flecked marble two-tops scattered under stamp-sized oil paintings of
Rome.

Order a few flute-fulls from the ever-changing global list to pair with a charcuterie plate from the five-item menu, or keep the juice flowing from the twenty-or-so-deep wine list from as far as Austria to as close as Anderson Valley.

You might be skeptical that all of this will fit into this closet-sized lair.

Consider it a mini miracle.