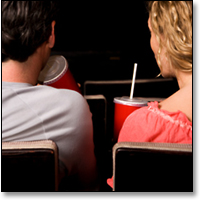 Last week
we brought you excess
—hey, it's what we do. But every now and again we acknowledge that sometimes you need to disappear for a couple of hours in Vegas, drop off the grid and lick your wounds.
So for these times we may have found a great hideout: the
Galaxy Theatre at the Cannery Casino
and their new policy of drinking during movies.

If you're thinking that tossing back a cold one while watching Clint Eastwood throw back PBRs in Gran Torino seems about right, then your time has come. And there's no doubt watching Brad Pitt age backwards can only be improved by a little hair of the dog.
 
The two booze-friendly auditoriums open at 6pm, come complete with the requisite stadium seating, high-back rocking chairs, standard candy/popcorn/fried-stuff fare and, of course, cup holders. For now it's beer only, so you'll have to settle for a few suds when you want to pour some out for the homies during your weekend screening of Notorious.
 
Just don't pour it all out.