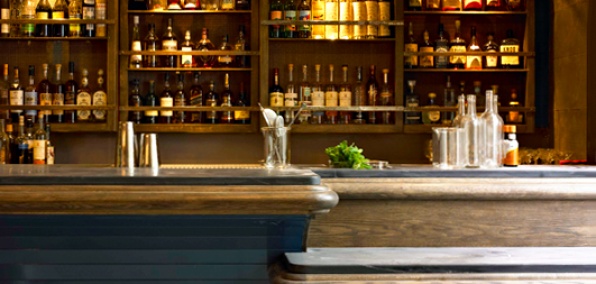 Today, we introduce you to a cool bar where the cool things are kind of hard to explain.

So put on your thinking cap and say hello to Trick Dog, a whimsical new two-level cocktail den from the Bon Vivants, opening tonight in the Mission.

You remember trick dogs, of course. Those vintage piggy-bank-dog things. Well, that's the inspiration here—you'll find one on a shelf in the bar, and you'll find one on the menu. (That Trick Dog is actually a burger—a brisket/chuck/sirloin burger, to be precise.)

Sit. Look around. What you'll see is a dizzying array of bright colors—the yellow ceiling, the blue bar, the pink floor... the rainbow-like splendor of the drinks list. About that last one: the cocktails here are arranged by Pantone color. So when you want to order the olive-oil-infused-gin/Chartreuse Alligator Alley, you'll look for green; for the beet juice/bourbon Pantone 7621, look for red. (For a martini, just ask for a martini.) It's like picking out paint in a hardware store, but boozier.

You'll come here with a date before or after dinner at the nearby Flour + Water or Central Kitchen. Or just swing in anytime before 2am for whiskey and some late-night Scotch eggs.

We're not responsible for any colors you see after that.