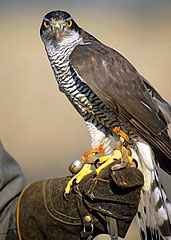 The new year.
It carries with it the chance for accomplishment. Triumph. Achieving personal goals.
And somewhere in there, squeezing in time to have a majestic bird fly off a big leather glove on your arm in New Hampshire.
Emit an eagle's cry for the
NH School of Falconry
, a private instructional nest for learning the lost art of falcon-handling, available now by appointment.
This is exactly what you'd hoped it would be: a federally licensed school run by a husband-and-wife team of master falconers with more than 30 years of raptor-based experience (it's the only one like it in the state).
To start, you'll want to email them to book a lesson. Then, after the hour-and-20-minute drive to southern New Hampshire, you'll spend about two hours learning the falconry basics and actually having a peregrine falcon fly to and from your arm (dubbed the "Go, Mordecai" move).
If you want to step it up a notch, you can even join them at the state's oldest wing shooting club for a falcon- and dog-supported hunt for small game (pheasants, quail, partridge).
Oh, and if you'd rather just have the falcons come to you, you can also book them for your next event or party.
Nothing kills at a sales conference like birds of prey.