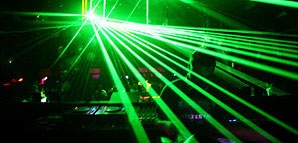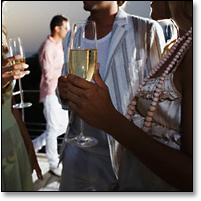 Miami's nightlife has slowly been migrating off the beach and toward the city's urban hinterlands. 
And while retro-industrial lounges in blighted areas do wonders for your street cred, we feel it's time to shake things up with a sprawling bay view, live DJ and some fresh air.
Introducing
Double Grand Waterclub,
a new waterfront lounge opening tonight.
Sure, you've sipped reasonably priced cocktails while watching Biscayne Bay go by before, but this isn't your typical
Gilligan's Island
type of place. (We're looking at you, Monty's.) Located at the Doubletree Grand Hotel in downtown, the al fresco space makes fine use of the hotel's envious bay-front real estate, welcoming you with couches and a massive bar flanked by cranberry barstools that beg to be pulled up and cocktailed at.
During the week things kick off at 5pm and end at midnight, effectively making this a scenic happy hour spot. (Lush landscaping and yachts rolling by tend to do that.) See for yourself at the grand opening tonight, when DJ LeSpam and the Spam All-Stars will be providing the soundtrack and Bacardi will be furnishing complimentary mojitos from 6-8pm.
How happy your hour becomes after that is entirely up to you.