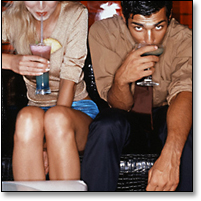 The Bears may be out of Super Bowl contention, but that doesn't mean you are.
Introducing the
Name Your Own Price
Super Bowl Party
at Sully's House, now taking bids for all your Feb. 1 festivities.
The best way to understand this concept is to imagine if Priceline gave up on the airlines and got into the private party-booking business. Rather than just bidding on generic party packages that a bar chooses to dish out, you can design precisely the kind of party you want, and then name your price.
Submit the amount of people you'll bring, the boozing situation (open bar or cash) and the length of time (we recommend at least an hour...these things tend to run long). Pick out the food, or let your guests order off the menu when they arrive. (Either way, the
Bacon Barbecue Chicken Pizza
should make an appearance.) Finally, tell Sully's how much you're willing to lay out for the whole shebang.
Then, things get interesting: The bar is only selecting two bids, one for each of its 100-inch HD projection screen-equipped party rooms upstairs. (If you need a frame of reference,
check out the regular rates here
.) That means you'll have to think like a quarterback: Go too big and you'll overshoot; come up short and you'll never connect.
And don't linger in the pocket, or you could end up watching the game at home.
With your supermodel fiancée.