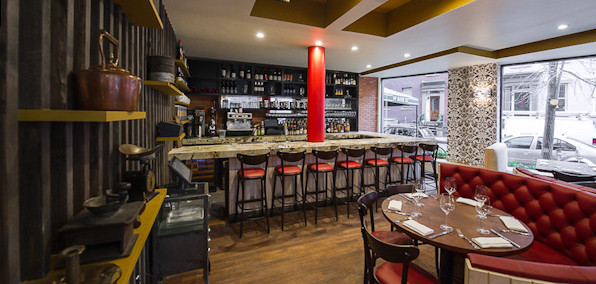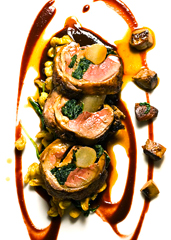 It's that time of year.
The
Home Alone
theme is stuck in your head. There are pine needles all over the soles of your shoes. And you're hankering for schnitzel... for some reason.
About that last one: you're in luck.
Introducing
The Marrow
, a sunny West Village temple to the foods of Germany and Italy from the Kin Shop and Perilla folks, opening Monday.
Harold Dieterle's your chef here. Won the first season of
Top Chef
(when it still meant something). Opened a couple places. Perfected the art of braised goat. Got celebrated. And as such, he wanted to get back to his German-Italian roots. The result: this.
You'll notice the butcher-block tables first. Always a good sign. Then you'll detect the aroma of duck schnitzel or braised cuttlefish or wood-grilled Wagyu skirt steak. Then everyone will talk about what a ridiculous sense of smell you have. You'll just laugh and summon over a bottle of riesling. (You can summon that here.)
This should happen within the confines of, oh, a double date. Your angle is making sure everyone gets something different—some braciole for her, a little quark spaetzle for him. Once it arrives banquette-side, you're all, "Oh yeah, sure. I mean, if you don't mind. I guess I could try just a little piece."
Damn, you're good.