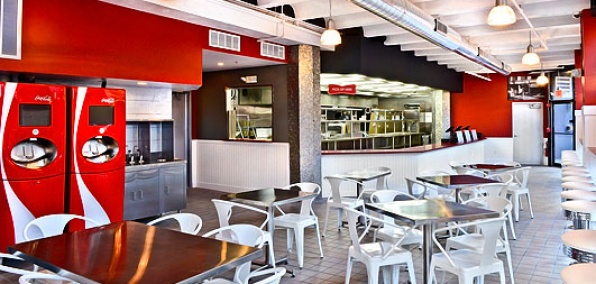 Harvard Square.
Nice place. Historic. Eclectic. Only way to make it better is to have a little bit of Fenway-style raucousness injected into it.
Best-case scenario: Fenway Park II.
Next best: this.
Behold: your first look at
Tasty Burger Harvard Square
, the new two-floor encampment of
Kahuna Burgers
and microbrew glory, tentatively opening this weekend.
Housed in a former 7-Eleven, this has the same general vibe of the original Tasty Burger. That is, a relaxed dining cave with billiards and wall paintings in homage to
Pulp Fiction
(in this case, Uma Thurman eating a burger at Jack Rabbit Slim's).
If you want, it could be a great casual date spot. Meet up with that linguistics grad student for a quick round of nine-ball, then grab a mahogany banquette or a seat at the bar downstairs to graze from the 40 microbrews and canned beers (Cisco, Smuttynose).
But don't forget about those burgers. In addition to the aforementioned Kahuna option, you'll want to try
the spicy jalapeño burger
(jalapeños... bold move), along with some
Nitro Nuggets
(their version of buffalo chicken tenders).
Oh, and should you be out late-night, they serve food till 4am.
The best time of day for cheeseburgers.