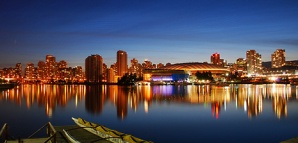 Cities approach the Olympic Games like a first date—no matter how attractive they already are, there's still an extra effort to doll themselves up. But like fresh powder, cities are best visited before the Olympic-level crowds descend. 
Which makes now the perfect time to soak up Vancouver.
The slalom champs, short-skirted skaters and Jamaican bobsled team won't descend on Canada's western shore for another full year, but this seafront city is more than camera-ready.
While Vancouver has always sprawled in the shadow of the slopes, it's come into its own as a winter sports mecca; new lifts at nearby
Grouse Mountain
put the powder just fifteen minutes away, or head further north for the just-opened
Whistler Olympic Park
—where you'll night-ski, shoot biathlon rifles and take to the luge (think of it as a northern-tinged bachelor party).
Back in town, the waterfront scene is better than ever. Pre-Olympic hotel openings include the
Loden Vancouver
in high-end Coal Harbour—a long-awaited boutique just blocks from the monstrous, Pacific-ringed Stanley Park. Around town, the pre-Olympic spirit has brought in everything from
stunning ice sculpture
to the Cirque du Soleil-esque Avatar Circus Project, to pop-up restaurants and visiting jazz and opera. End the night back at the Loden's already-buzzy restaurant
Voya
for local oysters, duck
sous vide
and artisan cocktails from Jay Jones—the Sasha Petraske of Vancouver.
Wherever you go, your mixology standards follow.