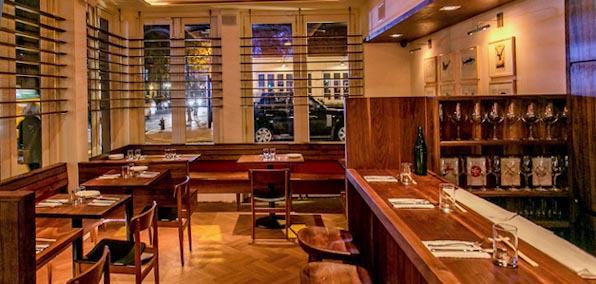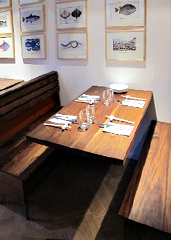 Cousin Scotty Fails His Driving Test
.
This is either:
A) Unwelcome news from your distraught aunt.
B) Bushwick's newest Pitchfork darling.
C) The name of a Japanese whiskey cocktail from a new big-deal eatery in the West Village.
Deep down, you already know the answer...
Welcome to
Chez Sardine
, a humble ode to Japanese drinking food (and oddly named cocktails) from the powerhouse behind Fedora, now open in the West Village.
These intrepid young restaurateurs were eventually going to find their way to sushi and its relatives. And this is the manifestation of that inevitability—a small haven of horizontal wood planks, a random Mr. Miyagi photo,
raw Spanish mackerel, tartares, tall-stacked salmon roe blinis, whimsically named cocktails and rarefied sakes
.
Now, before we continue—just because we wouldn't want to forget this—there's also a foie-gras-and-smoked-cheddar grilled cheese. It's going to ruin every other grilled cheese for you, for all time.
But back to business... The inspiration here is izakaya. That's the kind of late-night Japanese bar bite that usually comes with an important merger and a side of terrible karaoke. Not the case here, though. As it turns out, in the right hands, and at a cozy little two-top looking out on West 4th Street, with a substantial wine list, it can be downright romantic.
Not that we don't love your rendition of "We Didn't Start the Fire."