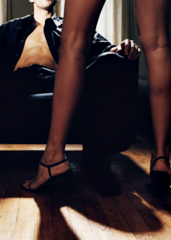 You're always looking for a gift that really reflects who you are and your true feelings about the person you're giving it to.
You're sensitive like that.
Well, this is one way of doing things...
Embrace your odd sense of familiarity with
The
Personalized Sex Toy
, a giftable pleasure-delivery vessel that's an exact 3D-printed replica of your own vessel, reddening faces and changing lives at the 3DEA Pop Up.
If there were an awards show about your life, this would be the perfect trophy to give out. Using it as a bookend is also a viable option. But most likely, you'll give this as a gift to someone you know... real well. Because, uh, it's a silicone replica of your manhood, and you don't stuff that into just
anyone's
stocking.
It seems particularly important for you to know how this works, so here it is: sign up for a curtained-off scanning appointment at the 3DEA Pop Up at the Eventi hotel for either December 3 or 10.
There, technology happens (so do champagne and chocolate). They'll create a 3D printout of the subject and send it to New York Toy Collective, who'll manufacture the final product—with a perfect skin-tone match, no less.
Just make sure to gift wrap.