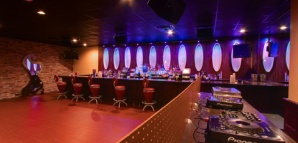 Glossy, over-the-top clubs have their time and place. But sometimes you're in the mood for a spot that's less about flash and more about Miami's storied past.

Your latest history lesson begins at The Lounge, the new midcentury-looking cocktail den opening Friday at the Shelborne Hotel.

Nestled in the Collins Ave mainstay, the Lounge is where you'll come after a hard week at the office, a place to unwind and take the edge off the same way Frank or Deano would do after a tough stretch of shows. It's a changeup to the Shelborne's karaoke parlor and thumping club Shine, a place to co-mingle with locals, without the hassle of velvet ropes, guest lists and glow sticks. Make your way through the lobby level to the polished wood bar, where vintage '60s barstools and chrome cocktail tables evoke Roger Sterling in all his leering, martini-swilling glory.

That's not to say this place can't get down. (They did dance in the '60s, after all.) Expect local DJs to take turns hosting, with the bar putting its hardwood floors to good dancing use as the night wears on. Two other important notes: There are two-for-one drink specials nightly, and the place is only open on the weekends.

Always good to leave them wanting more...