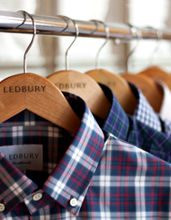 This past weekend, you got dressed pretty much every day.
This coming weekend, you're going to do... pretty much the same. (Practice makes perfect.)
But there will be a few well-timed moments of (tasteful) nudity.
For one: your traditional Saturday bubble bath. For two: the moment you try on a handsome new gingham shirt.
About that shirt: meet the
Ledbury Pop-Up Shop
, a new destination for shirts, jeans and ludicrously ornate hunting knives, open this weekend (and this weekend only) in the Westside Provisions District.
So, Ledbury. Shirt guys. Based in Richmond, VA. You may have picked up a plaid number or three from their website. Well, this is your chance to do that in person. See, they're commandeering a vacant event space and filling it with a glorious amount of autumn-appropriate wearables. (Good timing.)
Of course, you'll need more than shirts (unless your office has a very liberal Donald Ducking it policy). So they'll have some new wool blazers (by the way, they're doing blazers now). And they've enlisted Oakleaf & Acorn to stock jeans, eyeglasses and those aforementioned knives. It's the kind of stuff you could wear to the Optimist on a date, or to a night of gratis whiskey and DJ'd soul music.
Speaking of: on Friday, they're teaming with the gents at Bearings for a night of gratis whiskey and DJ'd soul music.
Whiskey and knife shopping: what could go wrong...
Note:
<a href="http://www.facebook.com/events/482320141812480/" target="_blank">Ledbury Pop-Up Shop</a>, November 16 to 18 in the <a href="http://westsidepd.com/" target="_blank">Westside Provisions District</a>