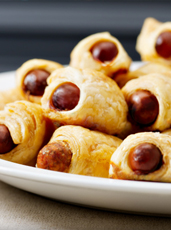 These past few days have done wonders in the "giving you perspective" department.
Really made you realize what's important.
They've also made you realize just how great things like tiny hot dogs wrapped in biscuits really are.
Now here's some of those...
Get excited again for
Brooklyn Piggies
, a single woman delivering pigs in a blanket to the masses who crave them so, available now out of Brooklyn.
This woman, Missy Koo—she just loves pigs in a blanket. And let's face it: so do you. Which is great, because she makes a mean one. Actually, three mean ones—original, spicy and chicken. All pretty self-explanatory. And right now, you've got two options for getting them to your mouth: find her booth at Smorgasburg or order them in catered bulk.
Regarding catered bulk: let's say you recently received a glorious phone call from Con Ed. You'll have power back on Saturday. This calls for a celebration.
Light some candles, holler down the hall and collect as many of your fellow building dwellers of the night into your place. Now you're going to
email this woman
and tell her to bring you a lot of pigs in a blanket. And then she will.
Hot dogs = normalcy.