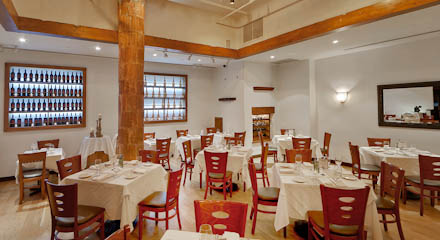 Lately, your dining options seem to only include some form of
mega-scene
with zebra-striped suede and Lucite Buddha heads.
That's why the less obvious, smaller sweet spots really hit it home.
Just off the loud and shiny restaurant strip of Park Avenue South, there's a new gleaming white sliver called
Parea
. The modern Greek restaurant which opens tonight is a surefire choice for a sexy and understated date.
The space has a cool Mediterranean vibe with its rippled cream-colored walls and ceiling of overlit olive branches, perfectly chic without getting into swanked-up or blinged-out territory. Settle into a cozy corner banquette and be prepared to do a little "collaboration," because everything on the tasty, inventive haute Greek menu is designed for sharing.
The mezethes (appetizers), come out together in small portions on wooden boards (try the
Lobster Dolma
with Mint Dressing or the melt-in-your-mouth
Crispy Pork
with Pistachio, Roasted Beets, and Honey). A second course of special house-cured meats can't be missed: paper-thin lamb, pork, and venison are paired perfectly with olives, feta, and picked celery. Desserts are also meant for two and come in miniature sizes (which she will love since everything miniature is also "cute").
The only thing you won't have to share is your cocktail—good thing, because with ouzo drinks like the
Ginger Rickey
(ouzo, cognac and ginger), this might be where your good will ends (or hopefully where hers begins).