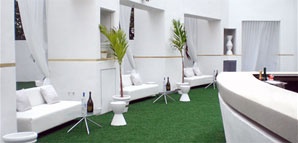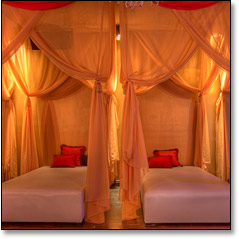 Downtown, shmowntown. When it comes to nightlife, South Beach still reigns.
Here to up the club-going ante is
Provocateur
, opening tonight with a lavish soiree and continuing the festivities tomorrow night with a celeb-studded New Year's bash.
Located across the street from the Gansevoort, the club isn't much to look at from the outside. But once you step in you'll find a gold and silk hideaway with indoor and outdoor spaces and plenty of covert nooks to get to know your date (or...someone else). The entrance consists of a runway nearly as long as a basketball court, where your picture is snapped and projected onto a screen. (Sort of like nightlife Jumbotron Facebook.) A complimentary glass of wine awaits, as does faux grass at your feet and plush white couches.
There's live burlesque entertainment every twenty minutes, and a VIP bedroom outfitted in rich burgundy and a white baby grand. If you're feeling hungry, there's a fruit and fondue bar where snacks like strawberries dipped in chocolate doused in whipped cream are served under the watchful eye of your own personal manservant (just like back home).
Our recommendation: Go there now before the masses invade.
But you already knew that.