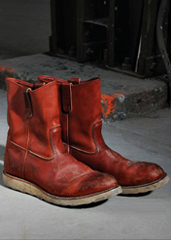 Your feet have taken mighty good care of you.
They've trodden up and down hills. Through fog and more fog. Pounded pavement.
So you'll want to seize this opportunity to really return the favor...
Herewith, the
Red Wing Pecos Boot, 8866
, a prized Western/work boot once available only in Japan, hitting American shores Thursday at Unionmade.
Red Wing. You know Red Wing. Kindly Minnesotans. Been in the boot game for a while. This pair's been around since 1953, when it was created as a boot for farmers, ranchers and oil-rig workers. But the exact model and color (8866 stands for the classic Oro-Russet Portage leather) wasn't manufactured until 1997, and then it was strictly for sale in Japan. Thursday marks the first time it'll be sold on US soil.
You don't need us to tell you when to wear these, but here are some suggestions anyway: foggy days. Rainy days. Sunny days. Days that end with you being called in to do some emergency oil rigging somewhere. (Hey, could happen.)
Unionmade only has 48 pairs on hand. To commemorate this momentous occasion, they'll be serving you pints of Linden Street Brewery beer during the shopping process.
Sadly, not out of the boot.