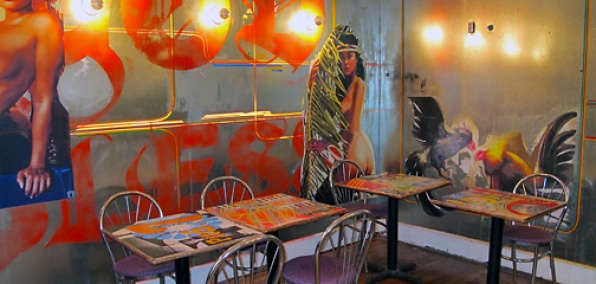 Happy Columbus Day.
Now that that's out of the way, you've got ample time to hear about flash-fried Filipino pork belly...
Which they've got at
Jeepney
, a lurid tin house of large Filipino dishes and spirited beverage-ing, opening Thursday in the East Village.
Maybe you know Maharlika—another Filipino place in the East Village. This place is a grittier version of that one, from the same people. And by grittier, we mean there are huge photos of women wearing less than one piece of clothing plastered onto metal walls. Sort of feels like a lunch break on the set of
M*A*S*H
.
But stay focused. Eyes forward. Because there are also
vast quantities of embutido
(Filipino meat loaf), king prawns with pork fluff, pork shoulder in coconut milk and a burger topped with Filipino sausages to be had (they're clearly ahead of us in the field of burger advancement over there).
And wouldn't you know it, there's even a bar up front. That's where the pitchers of sangria and the dangerous tropical cocktails come from.
But walk on, right past the semi-open kitchen, and grab yourself a table. There're those naked ladies. Beyond that: an outdoor garden. Lush foliage. Looks like a ground-lit jungle. It'll be ready for spring.
That's the one after winter.