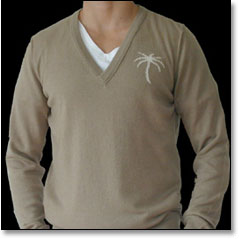 Designing clothes for Miami is a riddle wrapped in a mystery bound by open-toed shoes. For the most part it's warm, except when it's cold, and even then you need to be ready for an oceanfront outing.
It takes a special man to navigate through the fire and come out the other side looking good.
Which brings us to
Tomas Maier
—creative director for leather maker Bottega Veneta—and his new Design District store.
Think of Tomas as your supremely dapper, German-born, Paris-raised friend who's also a bit of a beach bum, and his boutique should come into focus. The book-laden showroom is uncluttered and airy, with modern light fixtures and sections for men and women (we suggest meeting back at the apothecary station). You'll definitely want to wander through the collection of simple V-neck sweaters (most made of cashmere), along with his trademark hoodies, which work with a suit or jeans.
Of course, upper extremities are only half the equation. The shop includes many fine-looking swim trunks, and shorts fit for an afternoon at the Delano or on your boat. He's also got a few straw fedoras, footwear from traditionalists like Minnetonka and even some specially commissioned Thomas Boog masks.
Not that you have anything to hide.