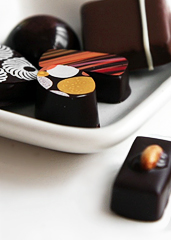 October. Historically, a great month for sweets.
Problem is, your chocolate tastes have grown more sophisticated over the years. And your schedule has gotten busier.
If only there were an artisan chocolate company that delivered.
Hmm...
Presenting
Community Supported Chocolate
by EHChocolatier, a new delivery service ready to supply you with gorgeous handmade sweets, available now.
Just launched from deep within a magical forest where childhood memories live on (okay, Somerville), think of this like UPS. That delivers only one thing: classic boxes of old-fashioned, hand-assembled gourmet chocolates and confections. You know: bonbons, chocolate chews... scotch-based caramels using 12-year-old Balvenie (sadly, they don't come wrapped in a snifter).
To weave this service into your life, start by
emailing them
to sign up. Then every two weeks or so, you'll pick up a mystery batch of goodies (they'll send you whatever is freshest) at a wine and specialty food shop near you (think: Central Bottle, Bacco's Wine and Cheese).
And don't worry about finding participating delivery spots. They've established several from the Back Bay to Central Square in Cambridge, Downtown Boston and even as far out as Lincoln.
It's good to have a chocolate drop-point between here and Hanscom.