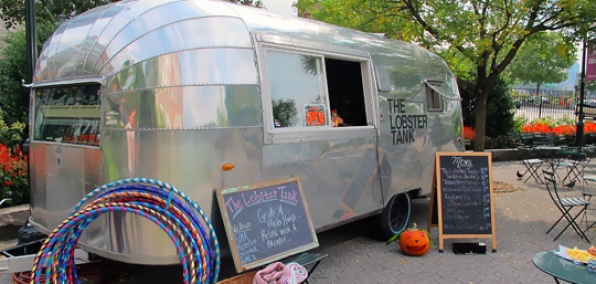 So, lobster rolls.

Kind of a summer thing.

... Or maybe that's just what the lobsters want you to think...

Say hello to The Lobster Tank, a few crazy kids in an Airstream trying to make year-round outdoor lobster rolls a reality, now open in Meatpacking.

This just might be crazy enough to work. Informal studies show: you like lobster rolls. But where most lobster roll operations pack up and head for heated pastures when the cold comes, these guys buckle down, toss you a blanket and keep scooping out claw and knuckle meat.

To partake, make your way to 14th Street Park near the West Side Highway at lunchtime. (Yeah, we didn't know there was a park there, either.) See that big Airstream trailer? The place with the big, goofy, hand-painted sign over it that says "Lobster Rolls" like it's someone's lemonade stand... That's the one.

Grab a table. Use the word "crisp." Talk about layering. Or order up a roll and a cucumber/watermelon lemonade and some key lime pie—just keep denying summer's over. You could also pick up a tahini veggie wrap, but... no.

One last thing: there are hula hoops. Just leaning on the side of the trailer, inviting you to hula with them, for some reason.

Maybe just get a lobster roll and head back to work.