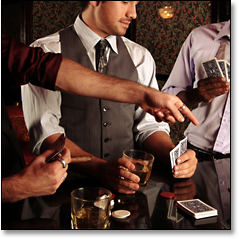 Your more nefarious pursuits are usually contained to the underground.  
But as we advance on 2009, maybe it's time to take a breath, clean up your act a bit and leave the underground behind. Sort of...
Today we bring you the glorious news of
Club
, a mysterious (and legal) poker den and lounge from the Grand Opening folks, now taking reservations for its January 9 opening.  
Think of Club as the tiny swanky poker lounge you've been looking for in the city—complete with one nine-player tournament table, clay chips, a sharp-tongued dealer, a fully stocked beverage bar and a cocktail waitress named Bunny (alright, maybe her name isn't Bunny, but you get the idea). The way it works is that you come by anytime after 6pm for a game of Hold 'Em and your "buy-in" comes in the form of an hourly rate of $12. You'll then turn to the eight strangers at the table and take to fleecing them over the course of the night. When you leave, your chip count is recorded and the higher your chip-count record, the lower your future "buy-ins" (not to mention the higher your chances of making it to the "final table" tournament championship in March).
Of course, if all you're looking to do is upgrade the digs of your regular poker game, you can book the entire space and benefit from the dealer, waitress and live internet camera coverage.
Sure beats Malkovich's pad...