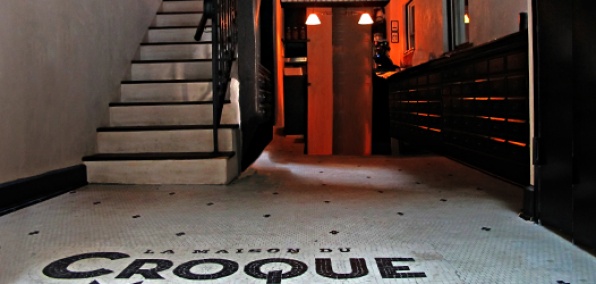 You've described sandwiches as "sensual" before.

People didn't understand. They gave you funny looks. They hid their sandwiches around you.

But we're here to reassure you: you're a visionary. Never change. Don't lose that sandwich-inspired spark we love so much.

And get yourself to this place as soon as possible.

Carve out an inappropriately long lunch at La Maison du Croque Monsieur, a happy little bi-level house of the buttery French sandwichry known as a croque, soft-opening this weekend in the Village.

Our French is a little rusty, but we think this roughly translates to "the house of the man croque." Which is weird, definitely. But don't let that stop you from ingesting grilled gruyère, ham and bread with béchamel at a startling pace.

Because that's what a croque is—basically a grilled ham-and-cheese, with some French touches and a bunch of different riffs. Like the croque-madame, which slaps a fried egg on top of the whole deal. Proust wrote about them. That's another croque fact right there.

At this place, you've also got a smoked-mozzarella-with-bresaola option. And you'll eat it in a space that looks like a library, because, why not. Card catalogs and slotted desks with the afternoon sun beaming through a tree upstairs. That's where you'll want to be, by the way—upstairs.

All the best sandwich-eating happens upstairs.