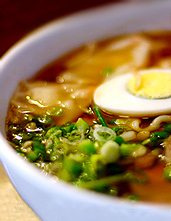 It's Monday, so we'll keep it simple.
Point. Click. Dinner is served.
But in case you need further elaboration... we'll, um, elaborate.
Say hello to
Caviar
, a locally based online delivery service specializing in restaurants that otherwise don't do delivery, available now by invitation only.
Deep-dish from Little Star. Pho from Turtle Tower. Martinis made with unicorn tears. That's what you're getting delivered from these guys. (Okay, maybe not that last one.)
Here's how it works. You'll go to the site and browse the roster of restaurants. It's not huge, but what it lacks in quantity, it makes up for in curation. Nick's Crispy Tacos in Russian Hill. Rosamunde in the Haight. The like.
Then, make your picks from their professionally photographed menus. (Nothing annoys you more than amateur menu photography.) They'll deliver to anywhere in SF and Treasure Island. Oh, and we should mention that once your order is placed, you'll be able to track your delivery in real time via GPS.
Try and contain your excitement.