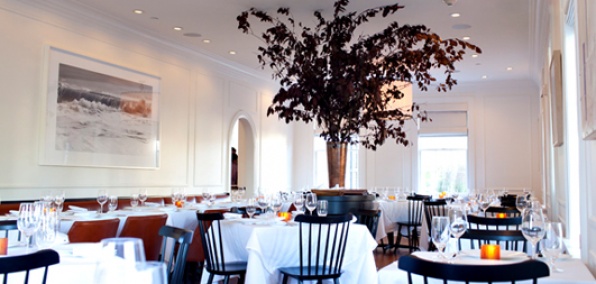 Saving the best for last.
Mostly, it's a drag. All that saving.
But every once in a while, it means Tom Colicchio Wagyu in the twilight of the Hamptons summer.
Every once in a while is right now...
Saunter down Route 27 to
Topping Rose House
, a pastoral manse from Mr.
Top Chef
himself serving up meals grown within walking distance, now open for dinner in Bridgehampton.
You're familiar with the whole farm-to-table concept. Well, they take it pretty literally here. Look at that one-acre farm outside. Now look at that table you're sitting at... Yeah, you get it.
That eggplant, those roasted peppers flanking your lamb loin
—they're from, well, the yard, basically.
We say "yard" because this is a house. A really immense, 170-year-old house that'll also have a 22-room inn this time next year. But for now, you and your weekend muse are focused on the ground floor, where the fluke crudo with spicy watermelon and bucatini with clams happen.
Know this: this is not some party-brunch operation that's fleeing back to the city at the first sign of a chill. It's a year-round behemoth—two ancient fireplaces to share a couple bottles of Long Island–vinted pinot and an airy, whited-out dining room with a menu that'll shift with the seasons.
Just when you thought you were out of the Hamptons, they pull you back in.