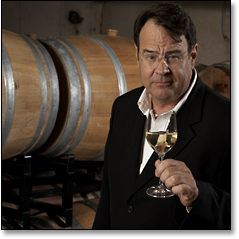 Dan Aykroyd is on a mission from god...to launch an SF-based series of wines called
The
Dan Aykroyd Discovery Series, in conjunction with DeLoach Vineyards. We sat down with the Renaissance man, Blues Brother and SNL alum to chat about wine, women and Ghostbusters III...

UD: You're an actor, comedian, writer, musician, restaurateur, spirits distributor and now wine producer…why wine?

DA: I've turned the whole thing around—I don't buy wine to complement food. I walk into a steakhouse, I'll order the biggest boldest red, and then I'll look at the steaks.
UD: Red or white?

DA: Red. But give me an ice-chilled white and a couple of
chicken wings. It's not that I don't drink white, but my last bottle—the death house bottle—it would be a red.
 
UD: Chicken wings, eh? Which wine goes with four whole fried chickens?
DA: Definitely Chardonnay.
 
UD: How about white bread toast, dry?
DA: Cabernet Franc Icewine from Niagara.
 
UD: What kind of wine would Jake drink?
DA: Jake would drink Stone's Green Ginger Wine...If you ran out of antifreeze, you could put this in and the car would run.
 
UD: How about Elwood?
DA: Elwood would be a Manischewitz guy. He had a lot of Jewish girlfriends.
 
UD: Would Joe Friday even drink wine at all?
DA: Joe Friday's a whiskey man. He's about good company, good clean streets.
 
UD: In your opinion, what are the five top wineries in California, after DeLoach of course?
DA: Coppola, Turley, Diamond Creek, Kendall Jackson.

UD: Would you rather make a movie with Francis Ford Coppola or a wine?
DA: That's a very good question. I'd love to maybe make both—a movie about wine with Coppola called Noble Rot. It was one of Jim Belushi's projects. Noble Rot is a story of the fungus that looks horrible and smells horrible, but it produces the best wine...
 
UD: Speaking of movies, which of your past movies would you like to see updated?
DA: Spies Like Us, no question about it. I would reprise my role, Chevy would reprise his, and we'd train a bunch of new pups—the best of the best.

UD: Any chance of a Ghostbusters sequel?
DA: A very good chance, in fact. Two years ago I couldn't have told you this. We have writers working on it right now. I hope to see a script at Christmas, and maybe shooting by the summer if you can believe that.

UD: Do you still watch SNL?
DA: Diligently. Every week. I think Kristin Wiig is a genius...an empire-builder, and Fred Armisen. I think we're seeing talent that's just as good right now. Today's cast is as good as we were.
 
UD: You've played everything from Jimmy Carter to a Wild and Crazy Guy on SNL. Any one favorite?
DA: Fred Garvin, Male Prostitute, absolutely...It's a fantasy I could never live. The fantasies that never come true are the best ones.

UD: After working together on three films, Jamie Lee Curtis called you the best onscreen kisser.
DA: On or off, you know.

UD: What's your secret?
DA: You'd have to ask the women. I don't know.

UD: When it comes to women, is it better to be a comedian or a musician?
DA: Comedian, no question about it. It's laughter first, then conversation, good food and wine, and then a hot tub...