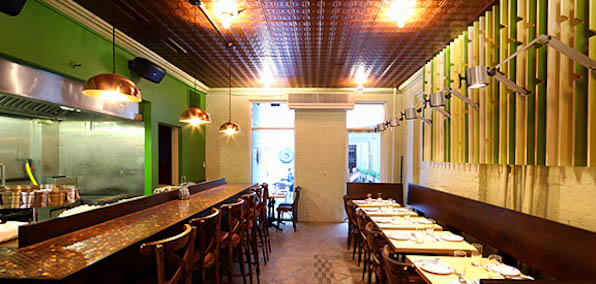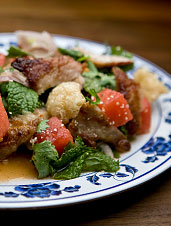 We now interrupt your regularly scheduled Monday afternoon...
For a Monday afternoon where your mind is consumed by visions of chicharrón.
That's better.
Say hello to
Pig and Khao
, a humble house of Filipino pork and canned beer from a
Top
Chef
contender and rogue elements of Fatty Crew, opening Friday in the lower portion of the East Side.
Eating: you consider yourself a fan. It's almost like you could do it every day, several times. And coincidentally, it'll be your primary objective here. Start with a full-on assault of plates of crispy pork shank with mango salad. Or if you're more the neck type, you've got a solid piece of porcine neck with watermelon to tackle (you always strive for pig/fruit balance).
Bring friends and other-white-meat connoisseurs. It's a small, simple, bricks-and-tile kind of operation, but you've got some communal picnic tables to commune at in a trellised garden, which needs appreciating before the season whose name we dare not speak arrives.
And cocktails. Wine and soju cocktails. Which sounds pretty exciting, until you look over at the guy next to you, who's gone with the bottomless beer option in the garden.
The grass is always greener.