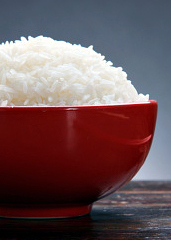 As that tingling sensation in your big toe has been hinting at, there's a new Asian street food depot rising in Somerville:
DooWee & Rice
. After braving the trek to the greater Tufts University area, here we present three things to know about it.

It's like an indoor food truck, but with seats.

And a 55-inch flat-screen, which will be employed on Wednesday evenings during movie night (first one:
Coming to America
), when you'll land special weekly-changing tapas-style dishes the owner is experimenting with (think: chicken-liver egg rolls, crispy shrimp heads).
Yes, there is more than rice.

Sure, you'll have signature NYC-style chicken-and-rice covered in a secret white sauce (note: all sauces are made in-house) and its many variations (steak, braised pork belly) before you. But there are also more adventurous routes to take: crispy chicken hearts, Vietnamese egg rolls, and braised pork, steak and hand-pressed burger
Bao Baos
sandwiches using meat that's been hand-cut and cured from whole animals in-house.
About that hand that's doing the cutting...
Hailing from a local MIT-based B-boy group (which every other year organizes one of the biggest break dancing competitions in the area), the owner holds the East Coast record for longest one-hand "freeze" position. But that doesn't mean he'll head-spin your dinner over to you.
Or maybe it does.