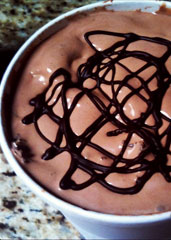 2004: You signed up for Facebook.
2012: You bought stock in Facebook.
Summer 2012: You desperately tried to unload stock in Facebook.
Fall 2012: You moved on to the next big thing from Facebook: ice cream...
Here to help:
Tin Pot Creamery
, a new ice-cream-of-the-month club from Facebook's former pastry chef, accepting members now.
If you saw
The Social Network
, you... probably didn't see Becky Sunseri. That's because she wasn't in it. She did, however, play a critical part in Facebook's ascent: keeping Zuckerberg and Co. plied with pastries.
She (and a partner) has since moved on to bigger things: keeping your freezer stocked with homemade ice cream.
Here's how it works: you sign up. Toward the end of the month, you get an email with the flavor of the month. (The most recent: bourbon-based ice cream with an oatmeal pecan cookie mix-in. This month: features cheesecake, but that's all we're allowed to say.) Then, be ready—because on either the last Wednesday or Thursday of the month, Becky or her partner will drive over and deliver you a quart.
And if you find yourself in an ice cream emergency (you'll know when it happens), you can arrange for special delivery—their flavors include
Raspberry Chambord
and
Salted Butterscotch with Gooey Brownies
, and they'll attempt almost any other flavor you can think of.
Nacho-tinis and cream, your time is now.