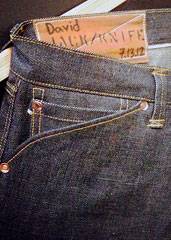 If you're wearing pants right now, you can skip to that italicized bit below.
If you're not wearing pants right now... what the hell, man. You need this more than you even know.
Anyway...
Meet Nick and John of
Jack/Knife Outfitters
, a couple of denim-obsessed guys ready and willing to make you a pair of custom jeans. They're taking appointments now in SoMa.
These fellas both worked at Levi's—Nick ran the Tailor Shop and John was at Levi's Vintage Clothing. The goods here look like they could've been plucked from the original Gold Rush–era Levi's factory—we're talking rivets hammered by hand and 14-ounce selvage pocket bags. (We hear they're the Cadillac of pocket bags.)
If you've ever had a suit made, you'll know how this works. Meet them in their workshop (buzz the red door next to Cento) and tell them your deepest (jeans-related) desires. They'll take your measurements. You'll sift through fabrics. Selvage from Japan, heavyweight stuff from Cone Denim in North Carolina. Pick your favorite.
Then, a couple months later—each pair requires roughly 40 hours of work, and they've already got a two-month backlog—boom. You have jeans.
FYI: they'll be making limited-run jackets out of waxed green military canvas and crazy Japanese selvage. Also, they'll fix up any old pairs of jeans you have around.
Two words: bespoke jorts.