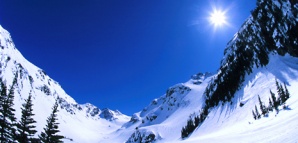 Not to worry. We've got one word for you: Canada.

Specifically Whistler Blackcomb, with fresh powder falling and the new Peak 2 Peak Gondola, a high-speed lift that takes you from Whistler to Blackcomb (or vice versa) in eleven minutes, opening Friday.

You've never had an issue with Whistler's nightlife (something about Canadian beer...), but the hourlong trip between the two monster peaks has never been worth it, forcing you to decide on one or the other (as painful and awkward as choosing a favorite child).

So take full advantage of your new freedom: Opt for the Advanced Itinerary, starting at the top of 7th Heaven on Blackcomb, and take on runs like Spanky's Ladder and Davie's Dervish (the goofier the name, the harder the run). Stay on the Blackcomb side and get a bite at Glacier Creek Lodge before hopping on the Symphony Express P2P to the Whistler side, where after a few more runs, you can dive into a bucket of ribs and beer at Dusty's Bar and BBQ.

You'll also want to check out the 2010 Olympic trails on the Taste the Gold Itinerary. The P2P will even spice up your après ski. Go for a scenic (read: romantic) Picture Perfect Ride in one of the two glass-bottomed gondolas where you can whisper sweet mountain nothings into her ear.

Bringing new meaning to the Mile High Club.