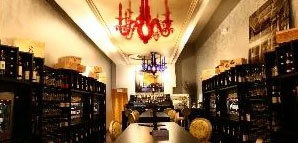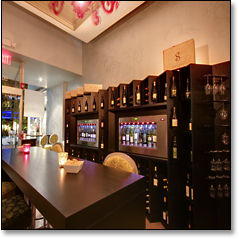 You can only stare at an empty, uninhabited bar so long before it becomes tragic.
So it's a relief to know that
Eno's Wine Bar
is finally—finally—open on Lincoln Road, ready to bring you a glimpse into the future of imbibement. (Any longer, and they might've been bringing you a glimpse into the past.)
Let's cut right to it: As you enter Eno's, you'll notice many gleaming automated dispensers covering the walls. They're filled—as much as the wine purist in you might object—with a constantly rotating selection of fine wines from Europe, South America and beyond. Purchase a pre-paid wine card—$20 is a good starting point—select your wine, select your pour size (one ounce, three ounces or five ounces) and experience the best thing to happen to self-service since...well, maybe ever.
The process is liberating (and fast), so we can see you and a date stopping in for a glass of spicy rioja before catching a movie on the strip, or lingering over a post-dinner Riesling at one of the bar's outdoor high-tops. Snacks like
Mozzarella and Prosciutto on Toast
and
Smoked Salmon with Brie
will fortify you on your vino-soaked odyssey.
Unfortunately, there's no machine for those.