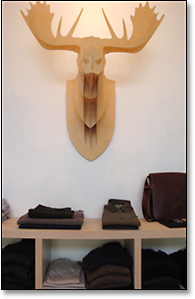 In Hollywood, being unsigned is not generally regarded as a plus.
Unless, of course, you're talking about a store—in that case, no sign means instant cred. So you might want to drop by the stealthily opened
Lost & Found
men's shop on Yucca.
You'll find it as one link in a chain of five low-key storefronts, each with rare finds for a general theme or gender—women, kids, home, the arts. (We've been hearing something about gift-buying season, might want to look into it.) The door will probably be locked, so you'll need to find someone in one of the other shops to let you into the small room, which looks like your TV actor friend's closet, if his closet were a room in his basement.
A few Hartford button-downs aren't stacked far from Feal Mor sweaters (used to channel your inner French fisherman), V::room thermals and (sure, why not) Christys' of London fedoras in their famous red boxes. They'll all help you perfect that classic Hollywood aesthetic that says you're really onto something...but you definitely haven't, you know, thought about it.
Before making room for this shop, the owner built quite a rep with the others after a long career as a stylist, so you'll probably run into your actor friend. Buy him something nice.
Maybe he'll finally set you up with his co-star.