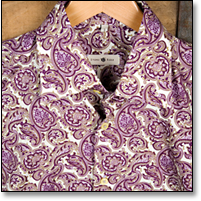 Last week was a bit of a blur, and though you've emerged from Basel intact, we can't say the same for your wardrobe. (To be fair, Dennis Rodman didn't
mean
to spill champagne on you.)
As you begin to refresh your closet, consider one of the new shirts from Miami-based
Stone Rose
.
The European-styled shirts are light and airy enough for Miami's sultry climate, but bring an understated class to help set you apart from the
Zoolander
set. (The shirts have actually amassed a bit of a following: You might have seen actor Seann William Scott wearing one on a recent couch—Oprah's, Tyra's, Jason Biggs'—or boxer Bernard Hopkins displaying one during a pre-fight press conference/brawl.)
Inspired by the owner's eclectic heritages, each look in the new collection is named after a corresponding airport code. While the DXB (Dubai International) is rich with floral and paisley prints (pair it with
supreme
confidence), the BCN (Barcelona) is the most formal, with stripes and a white collar. And then there is the top-seller, MIA. It's lively, full of color and has several different accents.
Although you'll still do most of the talking.