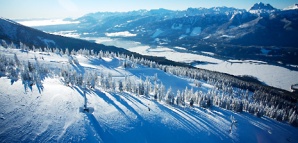 Ski resorts are like cars—the classic ones are almost inevitably the best. And when it comes to North American skiing, it's one ballsy up-and-comer that would try to unseat the Aspens and Vails of the continent.

But when they start to succeed, you start to take note.

Opening late last month for its sophomore season is Revelstoke, a British Columbian ski resort that's aiming to make Canada's Selkirk Mountains the new Rockies (like we said...balls). Revelstoke's last winter was a respectable soft-opening, with just two lifts covering a vertical descent rivaling Whistler's. But this year, they're breaking all the records—two quads and two gondolas, covering 5,260 vertical feet of expert-worthy terrain, the most in North America.

Also debuting this season: flights direct from Calgary, saving you a deal-breaking six-hour drive. Opening later in the winter for your après-ski enjoyment is the Nelsen Lodge, located right at the gondola base—an all-suite boutique hotel, with Aspen-quality rooms at Canadian-dollar prices (love it). And just through the door are heli-skiing and snowcat expeditions, running right out of the village—the only place on the continent to do so.

You had a good run, Colorado...